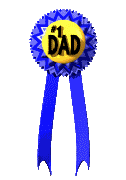 As you know, I work from home. When Brandon is home, he takes care of Kaitlin while I work. It really works out well and it's very efficient.
The other day, Brandon was playing with Kaitlin while I was hard at work. They were watching TV, coloring with crayons, and singing nursery rhymes. Then, all of a sudden I realized they had left the room and wondered where they had gone.
I found them in the guest bedroom doing this:
and this:
With Father's Day coming up, I think these videos prove that there's nothing like the love of a daddy.
('Cause everyone knows there's no way Mommy would allow dangerous fun like this! hahaha!)
Brandon, I feel so blessed to have a husband like you
I am so thankful that Kaitlin (& Peanut!) are blessed
with a father as caring, thoughtful, and supportive as you
I want to thank you for always putting our family's interests first
We love you from the bottom of our hearts
We wish you Happy Father's Day
We love you so much!